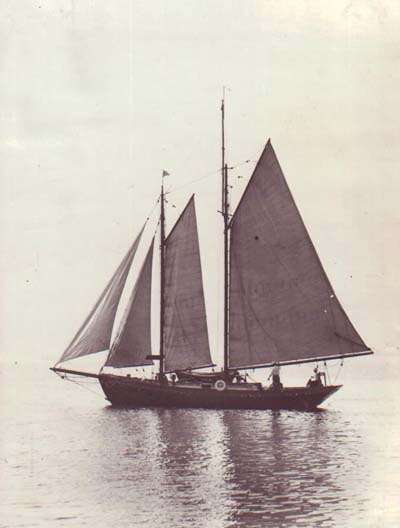 Built by the Waddell Shipyard in Rockport, Massachusetts for Martin Kattenhorn. Surprise began her life as a racing and cruising yacht. Mr. Kattenhorn had commissioned Thomas McManus, the most famous American designer of fishing schooners, to design a vessel of about 45 feet, which could be safely sailed by a crew of no more than three persons. In early 1918, Surprise slid down the marine railway. Her final dimensions were:
Length overall 57 feet, Length on deck 44 feet, Beam 12 feet, Draft 7 feet, Displacement 21 tons.
Her topsail schooner rig allowed Mr. Kattenhorn to fly a mainsail, foresail, staysail , jib, main topsail, and a fisherman staysail. Her working sail area, not counting topsails, was just under 1000 square feet. Surprise was a respected racer. In 1923, she captured sixth place in a fleet of 22 vessels in the first race to Bermuda after World War I. Mr. Kattenhorn was a founding member of the Cruising Club of America, and Surprise carried the club's ensignia from Bermuda to Nova Scotia and ports in between from 1918 until Mr. Kattenhorn's death in 1959, an incredible sailing career!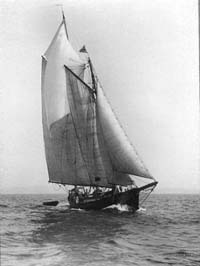 A series of owners continued to sail her throughout the East Coast and the Caribbean until she was purchased by Ed and Cindy Benedict who brought her to Falmouth on Cape Cod and restored her over the course of three years. They had her certified as a passenger vessel and she entered the passenger trade in Falmouth Harbor. Captain Jack and Barbara Moore purchased her from the Benedicts in 1986 and brought her to Camden, Maine. In 1991, Surprise was entered on the National Register of Historic Places, which recognizes her as an important part of our country's maritime heritage. Four major restoration projects have been carried out in recent years, and she is in superb condition!