Celebrating Our 104th Anniversary 1918-2022
Join us for a two hour daysail on the elegant Schooner Surprise out of Camden, Maine. We sail around the magnificent Penobscot Bay. On our Camden day cruises we will see lighthouses, wildlife, private yachts and summer estates. We offer Sunset sails, Tuesday night Sunset sails with live music, Full moon sails and Fireworks sails. We sail 7 days a week from mid May to mid October. Get involved and help raise sails or steer the boat, we are great with kids! Come and join us for a cruise on board the most famous windjammer in Maine. We offer environmentally friendly boat tours. We have limited amount of passengers with cushioned seating for all. Come sail the Maine Coast with us.
Join us for your Camden Maine Charter on the Schooner Surprise. Special events, weddings, birthdays, family reunions, anniversaries and corporate events. Two hour, half day and full day cruises on the beautiful coast of Maine. Have us cater your Camden cruise and serve exquisite appetizers on a sunset sail or a lobster lunch. Our Maine windjammer cruises will give you an unparalleled view of Camden Hills. We have been highly rated tour operators in Camden Maine for 35 years. Rated #1 on Trip Advisor!! Book your Camden Charters with us.
Events
September 19th and 23rd- Sunset sail with Live Music. Watch the sunset over the Camden Hills with live acoustic music. 5:30-7:30pm Adults $68 Kids $60
There is still snow on the ground and we are less then 6 weeks away from the start of our season! We have been working hard to get Surprise and Anjacaa ready for launching in just a few weeks. We will be sailing Surprise in her 99th year on the water with new sails this year and she has had lots of brightwork done down below. She also had a new head put in, so we can all thank Ramiro for that! We are also very excited to be able to offer another different sailing experience aboard Sloop Anjacaa this summer. She will only take a maximum of six guests and offers a bit more of an intimate ride. She is a great sailing boat in both light and heavy breezes and is sure to be a lot of fun for passengers. Our popular live music and homemade dessert sails will be back this summer on Tuesday nights with our friend Andre Lascoutx from Nashville playing his guitar and singing for us. These sails sell out quick so be sure to book yours in advance. Also, if you haven't sailed on one of our full moon sails be sure to book one on either Surprise or Anjacaa to see the sunset over the Camden Hills and the moonrise over Penobscot Bay. We look forward to having you aboard starting May 1st!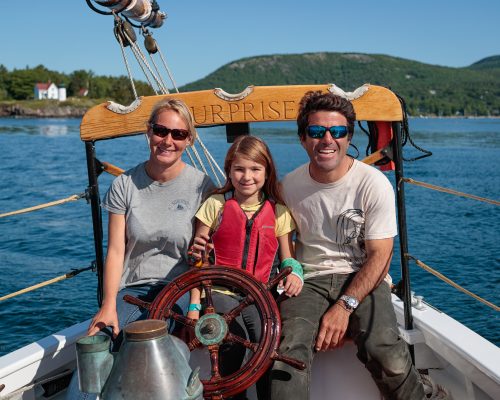 Contact Us:
Schooner Surprise
Ramiro and Nicole de Acevedo Ramos
207.236.4687
1 Bay View Street Camden, ME 04843
---
Check out our sister ship: Sloop Anjacaa